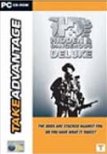 In October 2002 Hidden & Dangerous 2 was set for release but it never came, instead out came an updated version of the original Hidden & Dangerous. The updated version titled Hidden & Dangerous Deluxe contains all the original Hidden & Dangerous missions as well as all the Fight For Freedom expansion pack missions as well. Hidden & Dangerous Deluxe was not developed by Illusion Softworks but by former lead programmer of Hidden & Dangerous Michal Bacik. Michal Bacik left Illuison Softworks to start his own smaller developing company named Lonely Cat Games. The reason for updating Hidden & Dangerous was to finally try and fix all the bugs from the original game and to get the Lonely Cat Games name out there.
The improvements to Hidden & Dangerous Deluxe are great because the whole game engine has been upgraded to suit todays needs. The first updated thing you will notice is that you log-in as a player first before getting to the game menu. The whole game menu system has been upgraded and runs very smooth unlike the old menu which use to get choppy, slow down and sometimes lock up. You'll also notice when you start the game and are in the campaign selection menu that the Fight For Freedom missions are on the same selection screen.
When you play the first mission you'll notice straight away the upgrade in graphics. The player models have been updated and is much less boxier, you'll also notice the great new lighting. Once you find your first Nazi to kill you'll also notice the enemy models have also been updated. In some missions the enemy patrol routes have changed which can make things a little tricky but fun. No dramatic changes to the missions have been made, it's still the same game but majorly upgraded.
All players, enemies and vechiles as well as some objects all have real-time shadows. Which make for a great effect. Light-mapping, environmental-mapping and bump-mapping are all new fancy things which make the game look great and give it a better feel. Improved multiplayer stability and functionality has been done and does work better. Unsurpassed AI, Overhauled collision system, imprroved tactical planning (mission map) and advance support for next generation graphics hardware makes Hidden & Dangerous Deluxe all the much better.
With all the upgrades and updates to Hidden & Dangerous Deluxe they had to go a step further and make it extremely great by adding a game editor. That's right you can edit or create your own Hidden & Dangerous missions by using the official game editor.
Hidden & Dangerous Deluxe is a must get for any hardcore Hidden & Dangerous fan.